Caregiver Stress & Autism  It's important for parents to take care of themselves in order for them to care for their children. Clinical Psychologist Dr. Hurley provides several ideas on ways parents can be intentional about their personal growth and mental health. Read more by clicking here.
Word Wall  Our Polk center word wall highlights fun seasonal words and objects that clients may interact with, both in the center and at home! Kids can learn how to label these items, a VB-MAPP (Verbal Behavior-Milestones Assessment Placement Program) skill also known as tacting. You can learn more about tacting in our Training Video on our YouTube channel! This word wall at our Polk center just changed to reflect words used often during the winter season!
Thank you to these staff members for Maximizing Those Who Struggle, Embracing Those Who Love and Fulfilling Those Who Serve.
Alicia, Therapist
  Since coming to Cornerstone, I have applied and been accepted to grad school. Now I am about to start my final semester in Ball State's Applied Behavior Analysis Graduate program. I have also purchased a new car, and am in the process of finishing a quilt.
My grandma was one of my biggest inspirations. She spent her life raising amazing kids, and was one of the hardest working people I ever met. I'm also constantly inspired by the kids in my life. I have worked as a camp counselor, in child care, and now at Cornerstone. Watching these kids grow and do amazing things in their lives inspires me to do bigger and better things. Working with children with autism has been one of the most rewarding experiences of my life. I've loved watching my clients grow and make progress, and watch their personalities shine. I wouldn't be where or who I am today if it weren't for the kids that have been part of my life.
Nadja, Therapist   I was first motivated to learn sign language to communicate with my cousin who has CHARGE syndrome. CHARGE syndrome causes abnormal development of cranial nerves, resulting in deficits of the five senses, one of which is hearing. I decided to take sign language as part of my undergraduate degree at Butler University and instantly fell in love! During my 3rd year of ASL I had the opportunity to volunteer at the Indiana School for the Deaf in a 1st grade classroom and knew from that point on that I wanted to pursue a career that involved children. When applying to Cornerstone I had no idea about the sign language program, but once I started I knew this was the place I was meant to be. It is so rewarding to be able to provide our kids with the communication skills they need to grow and prosper! I wake up every day with a sense of purpose in what I do.
In my free time I enjoy watching a whole lot of Netflix and cuddling with my cats Ezra and Akira. A dream manager goal I'm working on is saving for a house!
Sam, Therapist  Since working at Cornerstone I've accomplished quite a few of my dreams. Some larger ones include purchasing a new car and getting my dream dog, a Corgi, named Oliver. I've also enjoyed using my knowledge of ABA and positive reinforcement to teach him to sit, lay down, wait, spin and fist bump. A dream I'm currently working towards is cooking through an entire cookbook!
I have two favorite memories at Cornerstone. I've loved seeing the graduations of two student kids I've worked with. It's amazing to see all the hard work that they, their families, and our staff put in so that they're ready to transition to school. My other favorite memory comes from the first kid I worked with. He had been working on the sign for 'walk' for the better part of a year, and the day he first signed it independently will live in my heart forever. I love that he has another way to tell people what he wants.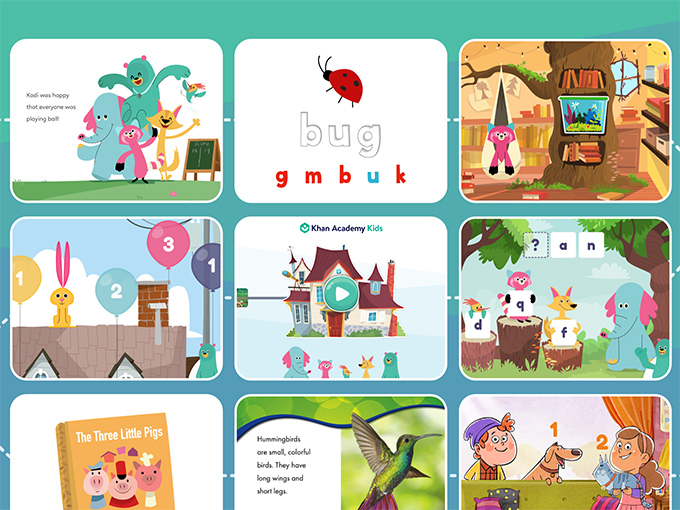 Free Apps  Common Sense Media has created a list of their favorite free educational apps for kids. Subjects range from reading and problem solving to math and science. Featured in the image to the right is Khan Academy Kids. This app features activities to boost skills in the areas of language, writing, social-emotional development, motor development, and more. Open-ended activities and games like drawing and storytelling encourage creativity and self-expression. A cast of sweet animal characters will guide children through lessons, and the adaptive learning path will customize their experience to their level. Click here to see the full list of apps.
Getting Through the Holidays  Between families, traveling, gifts and gatherings, the holidays can be stressful and a bit challenging for everybody. There are often changes to routine this time of year, which can be difficult for many kids. In order to make the holidays easier for you and your family, BCBA Angie Robbins shares some tips for getting through the holidays. Read the full blog at this link.
Wandering Prevention Tips  Children and adults with autism may be prone to wandering away from a safe environment. Because many people with autism have challenges in areas of language and cognitive function, it is critical for parents to understand ways to keep their child or adult with autism safe. Click here for a free printable tip sheet for families, with suggestions for prevention, education, and response.
All centers will be closed December 23rd to 27th for Winter Break, as well as Wednesday January 1st for New Year's Day.
Center Holiday Parties Families are invited to join us for our annual holiday party! We will have crafts, activities, and a picture with Santa. Party dates by center:  12/6: Polk and West Lafayette; 12/13, Edinburgh and Madison. Keep an eye out in your child's backpack or check your email for more information specific to your child's center.
Sensory-Friendly Santa and Gift Wrapping Station  Saturday, 12/7, 2 – 5 PM at our West Lafayette center:  Stop by our free holiday event where we will have a sensory friendly Santa station and an area where our "elves" will wrap your Christmas gifts for you! Note for the Gift Wrapping Station: If possible, please bring notes on your gifts for what you would like the label "to" and "from" to say. This event is free and open to the community. Visit our Facebook event link for more information!
Happy Holidays from all of us at Cornerstone Autism Center!

View past newsletters or subscribe to our newsletter by clicking here.